n.b
On the question of classified technology there is no need to be an insider to come to grips with all the available technology in existence which is superficially showcased in the papers an example being the cannons Gerald Bull (who was asassinated) had devised several decades back to send satellites into space for cheap...Considering the potential consequences I wouldn't want to improvise myself as an expert even if after a typical visit to the laudrymat I realised that spin cycle physics can do more than quickly dry clothing.. Excessively rapid velocities attained with centrifuges offer the greatest promise for CHEAP rapid ammo...
Imagine what electrical motors can accomplish on a low to high altitude flying gizmo with unlimited autonomy...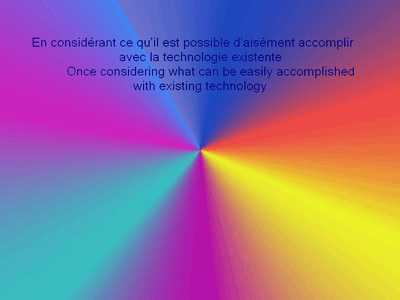 Extremely simplistic demonstration
The secret is not only to be able to channel air to the right places , but also to be able to open and close the right doors...(many different configurations can be tried such as 1 intake above and 4 exhausts below..etc) Obviously stabilisation is assured with the use of 2 props even if I was tempted to beleive that with the right doors (and what image files there are of previous devices) flight stability could be assured...
Once considering the available technology to adapt such a simple flier for space exploration, the possibilities to uncover with magnetic propulsion is but another eventuality once considering the very powerful repulsive fields attainable with specially configured electro-magnets which can act on high intensity electrical wiring -from 2 or more sources (ie; generators) assembled in a non interacting grid- to further enhance the effect...Once it comes down to flying machines eye witness accounts indicate that what flies emits radio waves at double the top of the AM band on the radio ! Must be the flying radio craze !
Extremely portable devices of a related design are used as reconaissance by the militairy (a 1990's issue of Scientific American actually shows a close-up image of one of the round ones which because of their shape draws UFO buffs to a state of near psychosis once they see one flying thus the reason for a more conventional design)... Easily acccessible documentation furthermore gives indications as to the possible alloys which have the best characteristics namely beryllium metal based intermetallic compounds with extremely high melting points (thus the purpose for the use compound)...Also please bear to mind that first generation video cameras originated in the 1950's... They could theoretically have been able to transmit imagery through shortwaves (which have the ability to bounce off the high atmosphere) ... Obviously it implies that even a twit like myself reading the available easily understandeable documentation could get an idea of what garage soap box could have been flying out there !
Mind you, ultrasonic emission at very high decibel ratings would get anything heavy to take off without mention of the high temperatures attained by a confined plasma if ever some would dare try... In other words; "Loud sounds lift things off the ground even if we can't hear it " ...Although infrasonics may be the ultimate solution...
So ,while visionairies may be tempted to reinvent the incandescent light bulb by changing paremeters in order to deliver the right energy , other avenues of research present themselves...
Mind you, mid to high altitude aerial surveillance of roadways apparently uses a miniscule semi autonomous drone with unlimited mileage and god knows what else to put the heat on the driver which hopefully doesn't end up looking like some strange acting turkey dinner blurting out nonsense for the audience !...
One more time for the puppetty dance show !